Young Investors Network and Ghana Stock Exchange Foster Financial Literacy among High School Students – Kumasi, Ghana
In an exhilarating showcase of financial acumen and investment knowledge, Yaa Asantewaa Girls emerged victorious in the Capital Market Quiz Competition, organized by the Young Investors Network in collaboration with the Ghana Stock Exchange. The competition, which aimed to promote financial literacy among high school students, witnessed Yaa Asantewaa Girls Senior High School securing a resounding victory over strong competitors, including Prempeh College, St. Louis High School, and Kumasi High School.
The competition, held at a prestigious venue Prempeh Hall, saw enthusiastic students from the participating schools engaged in a series of financial challenges and investment scenarios. These challenges were designed to test their understanding of capital markets, investment strategies, and economic principles.
Yaa Asantewaa Girls Senior High School exhibited exceptional teamwork, strategic thinking, and in-depth knowledge, propelling them to a well-deserved victory. Their grasp of financial concepts and their ability to make informed investment decisions left the audience in awe.
As part of the competition, the students were evaluated on various criteria, including their ability to analyze financial data, assess market conditions, and make investment recommendations. The interactive nature of the event not only enhanced their financial knowledge but also instilled valuable life skills.
The Young Investors Network, a prominent organization committed to promoting financial literacy and investment education, partnered with the Ghana Stock Exchange to organize this enlightening event. The collaboration reflects the growing recognition of the need for financial education from an early age.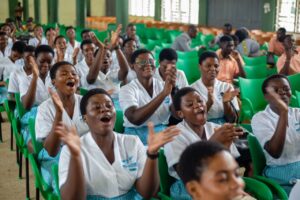 "We are delighted to witness such a high level of enthusiasm and understanding of financial markets among these young students," said Mr. Joshua Mensah, CEO of the Young Investors Network. "This competition is a testament to the importance of fostering financial literacy in our youth. These students represent the future of our financial landscape."
The event served as a platform for the students to interact with financial experts, learn about investment opportunities, and understand the significance of making informed financial decisions. It highlighted the pivotal role that educational institutions, financial organizations, and youth-focused programs play in empowering the next generation with essential financial skills.
The Capital Market Quiz Competition was marked by a sense of camaraderie and healthy competition. The participating schools showcased exceptional talent and a strong commitment to financial literacy, creating a bright outlook for Ghana's future financial landscape.
The Young Investors Network and the Ghana Stock Exchange are dedicated to continuing their efforts in nurturing financial literacy and investment education among the youth, with plans to expand the competition in the coming years.
The resounding victory of Yaa Asantewaa Girls Senior High School will stand as an inspiration for future participants, affirming that financial knowledge and savvy investment strategies can pave the way for success in the dynamic world of capital markets.