Africans Who Invest Fellowship (AWI)
What is the AWI Fellowship?
The Africans Who Invest Fellowship is a co-curricular yearlong fellowship for African undergraduate students who exhibit leadership capabilities, academic excellence, and a passion for improving financial literacy on the continent. Over the year, fellows will participate in an intense finance training program, networking sessions, and a mentorship program. 
Mission
Equip highly intellectual African youth to develop strong investing acumen in becoming future pillars of the African Economy.
Vision
Empower African youth provide resources to achieve financial literacy.
---
The Africans Who Invest Fellowship program aims to eradicate chronic poverty and improve the concept of financial literacy through investment education and access to careers in financial services for undergraduate students across the African continent.
The Problem
According to S&P's Global Financial Literacy Survey, African countries score the worst in terms of financial literacy in the world. The above affects various facets of the African economy. Young talented African undergraduate students are not able to secure competitive entry-level jobs in core finance.
The Solution
Partnering with Young Investors Network Ghana and Financeable to create the Africans Who Invest Fellowship Program. The fellowship addresses these problems by training, equipping, and eventually connecting and providing superior candidates with resources to help improve financial literacy across the African continent.
Born in Accra, Ghana, James currently works as an Investment Analyst at Vanderbilt University's Office of Investments. James attained a Bachelor's of Science in Business Administration in Finance from Bucknell University in 2020 and will attend the University of Pennsylvania's Wharton School in 2024 to pursue his Masters in Business Administration through the Moelis Advance Access Program.
While in college, James acclimated himself to the finance world by joining clubs like the school's investment club – which he would eventually co-head in his senior year of college. He interned with firms like CVC Credit Partners and J.P. Morgan Chase and was a member of Sponsors for Educational Opportunities (SEO). He spent his pre college years in Ghana and is excited to explore ways to embolden fellow Africans to pursue finance.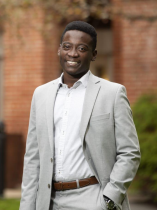 Gideon is a senior at Oberlin College in Ohio, majoring in Quantitative Economics & Econometrics with a concentration in Business. At Oberlin College, Gideon previously served as the Chief Investment Officer/President of the school's $550,000+ student-managed fund and President of the Oberlin College Model
UN Club. He is also the founder of the League for Global Development, a youth empowerment non-profit based in Accra, Ghana.
In 2021, Gideon served as a BOLD Immersion Extern at Google and a Summer Analyst in the Global Markets Division at Goldman Sachs in their New York Office. In 2022, Gideon worked as an Investment Banking Winter Analyst at PJT Partners in New York, where he worked on several M&A transactions across multiple industries, and as a Private Equity Summer Analyst at Ares Management Corporation.
Gideon is an Incoming Private Equity Analyst at Ares Management Corporation in Los Angeles.